Meet our CEO
Lehlogonolo Elias Mabitsela
Lehlogonolo Elias Mabitsela
Pr Tech Eng, Pr CPM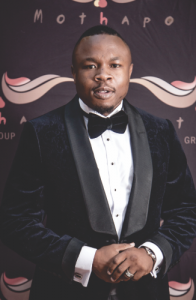 Chief Executive Officer –
Mothapo Consulting Engineers Pty Ltd
Managing Director –
Ideal Trading Pty Ltd
Chairperson –
Mothapo Group Inc
Membership of Professional Societies:
Professional Engineering Technologist, registered with the Engineering Council of South Africa (E.C.S.A)
Member of the Consulting Engineers South Africa (CESA)
Fellow of the South African Institute of Electrical Engineers (S.A.I.E.E)
Member of the South African Society for Professional Engineers (S.P.E)
Professional Construction Project Manager (Electrical), registered with the South African Council for the Project and Construction Management Professions (SACPCMP)
In practice as a Consulting Electrical Engineer since 1998 he gained vast experience in project management, electrical distribution network planning and design, financial control and business management.
To stay abreast with the latest developments and technology he attended many seminars and workshops in the field of Electrical and Electronic Engineering as well as Project Management.
During a career in the consulting environment, many projects were successfully managed, recently the larger ones were:
Design and Program Management of the 2006 – 2007 North Western Region (Eskom) electrification of 19 villages around Mmabatho. These projects meant 32 600 households gained access to electricity in this region during this financial year. Project value was R228 000 000
Construction Project Management during 2009 – 2011 of MTN new data centers on behalf of emerging contractors. Four of these data centers were managed to the project value of R600 000 000
Design and Project Managements of DPW Prisons in Krugersdorp, Diepkloof, Boksburg, Vereeniging, Heidelberg and Benoni. Services included electrical and mechanical engineering. Project value was R380 000 000
As a person, he is a highly motivated workaholic, independent self-starter with good communication skills and a fair understanding of cross – discipline subjects. He is an accomplished and experienced electrical engineer who offers practical and cost-effective solutions to often complex problems.
As a projects manager, he is a good team leader, project coordinator, planner, problem solver, advisor and financial controller.
As an entrepreneur, he has started and successfully managed 2 consulting practices (Dihlase Consulting Engineers and Mothapo Consulting Engineers), 2 retail outlets (Cappellos restaurants) and these are still successful businesses today.
He is an all rounded businessman and family man with a flair for success.